I am a postdoctoral fellow at CMA Thrust, the Hong Kong University of Science and Technology (Guangzhou); affiliated with the HKUST Visualization Lab supervised by Prof. Huamin Qu. I received my Ph.D. degree in computer science from Cornell University. Before that, I recieved my first-class honours bachelor's degrees in computer science from University of Strathclyde, Glasgow, U.K. and BUCT, Beijing, China.
My research focuses on human-centered AI. More specifically, I analyze and address the usability & accessibility issues and security & privacy issues that arise when AI technologies are applied to enhance people's daily lives. I have published at top-tier CS conferences in human-computer interaction or security & privacy research, such as ACM CHI, ACM ASSETS, IEEE S&P, and ACM CCS. I also collaborate closely with Fortune 500 businesses to facilitate the transition from AI in research to AI in practical applications.
🔥 News
📝 Selected Publications
Symbol * indicates that I am the (co-)corresponding author.
CHI Play EA'22
CollectiAR: Computer Vision-Based Word Hunt for Children with Dyslexia in the EA of the Annual Symposium on Computer-Human Interaction in Play (CHI Play), 2022.
Authors: Danlu Fei, Ze Gao, Linping Yuan, Zikai Alex Wen*
Abstract: The existing word recognition and spelling training games for children with dyslexia were not able to leverage children's immediate vicinity. Therefore, we designed an augmented reality mobile game, CollectiAR, that uses computer vision to identify objects in the player's immediate vicinity.
Pointers: Presentation
SOUPS EA'22
New Differential Privacy Communication Pipeline and Design Framework in the EA of the Eighteenth Symposium on Usable Privacy and Security (SOUPS), 2022.
Authors: Jingyu Jia, Zikai Alex Wen*, Zheli Liu, Changyu Dong
Abstract: To help users understand how differential privacy techniques may help protect their data, we propose a new communication pipeline that starts with asking users about their privacy concerns and then provides customized differential privacy mechanism and communication.
CHI'19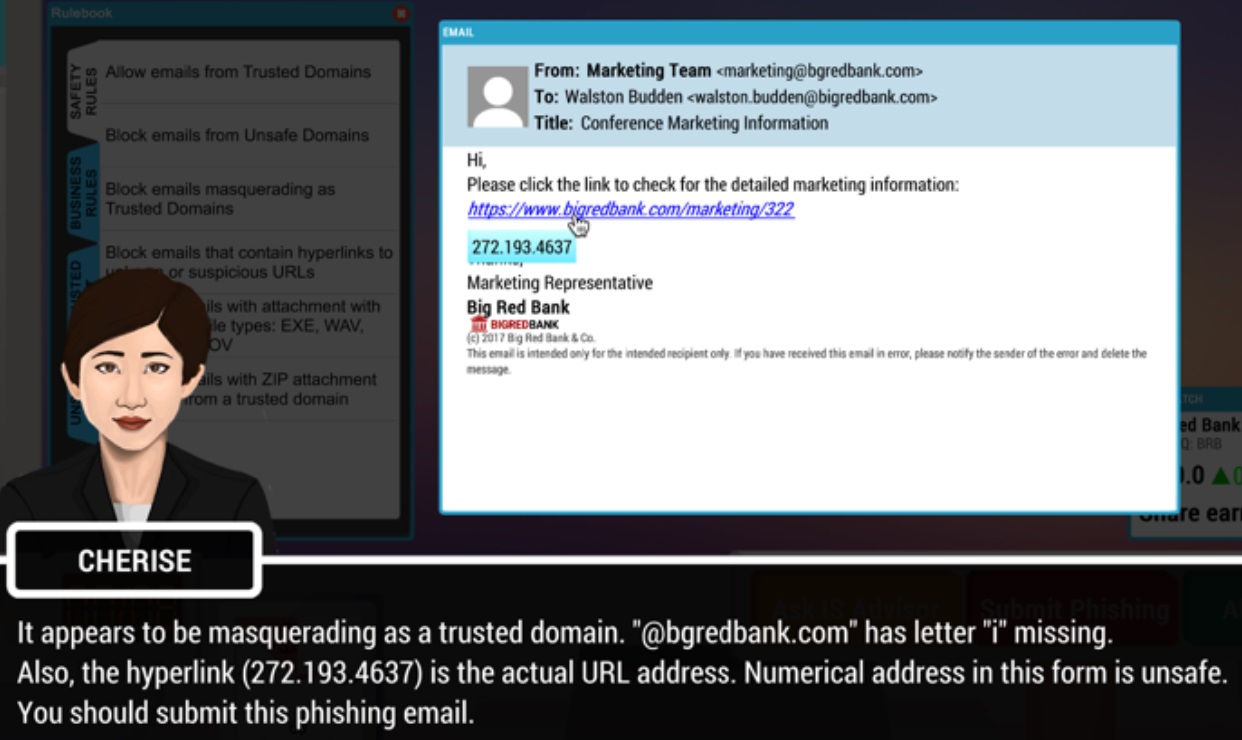 What.Hack: Engaging Anti-Phishing Training Through a Role-Playing Phishing Simulation Game in the proceedings of the SIGCHI Conference on Human Factors in Computing Systems (CHI), 2019.
Authors: Zikai Alex Wen, Zhiqiu Lin, Rowena Chen, Erik Andersen
Abstract: People being phished is due in part to insufficient and tiresome user training in cybersecurity. we designed the game What.Hack, which not only teaches phishing concepts but also simulates actual phishing attacks in a role-playing game to encourage the player to practice defending themselves.
Pointers: Game
📖 Full Publications
Symbol * indicates that I am the (co-)corresponding author. My current citation status is:
| Venue | Title | Author(s) | Theme(s) |
| --- | --- | --- | --- |
| CHI Play EA'22 | CollectiAR: Computer Vision-Based Word Hunt for Children with Dyslexia | Danlu Fei, Ze Gao, Linping Yuan, Zikai Alex Wen* | AI, HCI |
| SOUPS EA'22 | New Differential Privacy Communication Pipeline and Design Framework | Jingyu Jia, Zikai Alex Wen*, Zheli Liu, Changyu Dong | HCI, S&P |
| ASSETS EA'22 | Designing a Data Visualization Dashboard for Pre-Screening Hong Kong Students with Specific Learning Disabilities | Ka Yan Fung, Zikai Alex Wen*, Haotian Li, Xingbo Wang, Shenghui Song, Huamin Qu | HCI, VIS |
| ASSETS EA'22 | Designing a Game for Pre-Screening Students with Specific Learning Disabilities in Chinese | Ka Yan Fung, Kuen Fung Sin, Zikai Alex Wen, Lik-Hang Lee, Shenghui Song, Huamin Qu | HCI |
| IEEE GEM'22 | What Features Influence Impact Feel? A Study of Impact Feedback in Action Games | Zhonghao Lin, Haihan Duan, Zikai Alex Wen, Wei Cai | AI, HCI |
| IEEE GEM'22 | Understanding the Challenges of Team-Based Live Streaming for First-person Shooter Games | Jiaye Li, Minghao Li, Zikai Alex Wen, Wei Cai | AI, HCI |
| ASSETS EA'21 | An Intelligent Math E-Tutoring System for Students with Specific Learning Disabilities | Zikai Alex Wen, Yuhang Zhao, Erica Silverstein, Shiri Azenkot | AI, HCI |
| ASSETS'20 | Teacher Views of Math E-Learning Tools for Students with Specific Learning Disabilities | Zikai Alex Wen, Erica O Silverstein, Yuhang Zhao, Anjelika Lynne S Amog, Katherine Garnett, Shiri Azenkot | HCI |
| ASSETS EA'19 | Teacher Perspectives on Math E-Learning Tools for Students with Specific Learning Disabilities | Zikai Alex Wen, Anjelika Lynne S Amog, Shiri Azenkot, Katherine Garnett | HCI |
| CHI'19 | What.Hack: Engaging Anti-Phishing Training Through a Role-Playing Cyber Defense Simulation Game | Zikai Alex Wen, Zhiqiu Lin, Rowena Chen, Erik Andersen | HCI, S&P |
| CHI EA'17 | What.Hack: Learn Phishing Email Defence the Fun Way | Zikai Alex Wen*, Yiming Li, Reid Wade, Jeffrey Huang, Amy Wang | HCI, S&P |
| S&P'16 | Hawk: The Blockchain Model of Cryptography and Privacy-Preserving Smart Contracts | Ahmed Kosba, Andrew Miller, Elaine Shi, Zikai Wen, Charalampos Papamanthou | S&P |
| SAC'14 | Efficient Protocols for Private Record Linkage | Zikai Wen, Changyu Dong | S&P |
| CCS'13 | When Private Set Intersection Meets Big Data: an Efficient and Scalable Protocol | Changyu Dong, Liqun Chen, Zikai Wen | S&P |
🎖 Honors and Awards